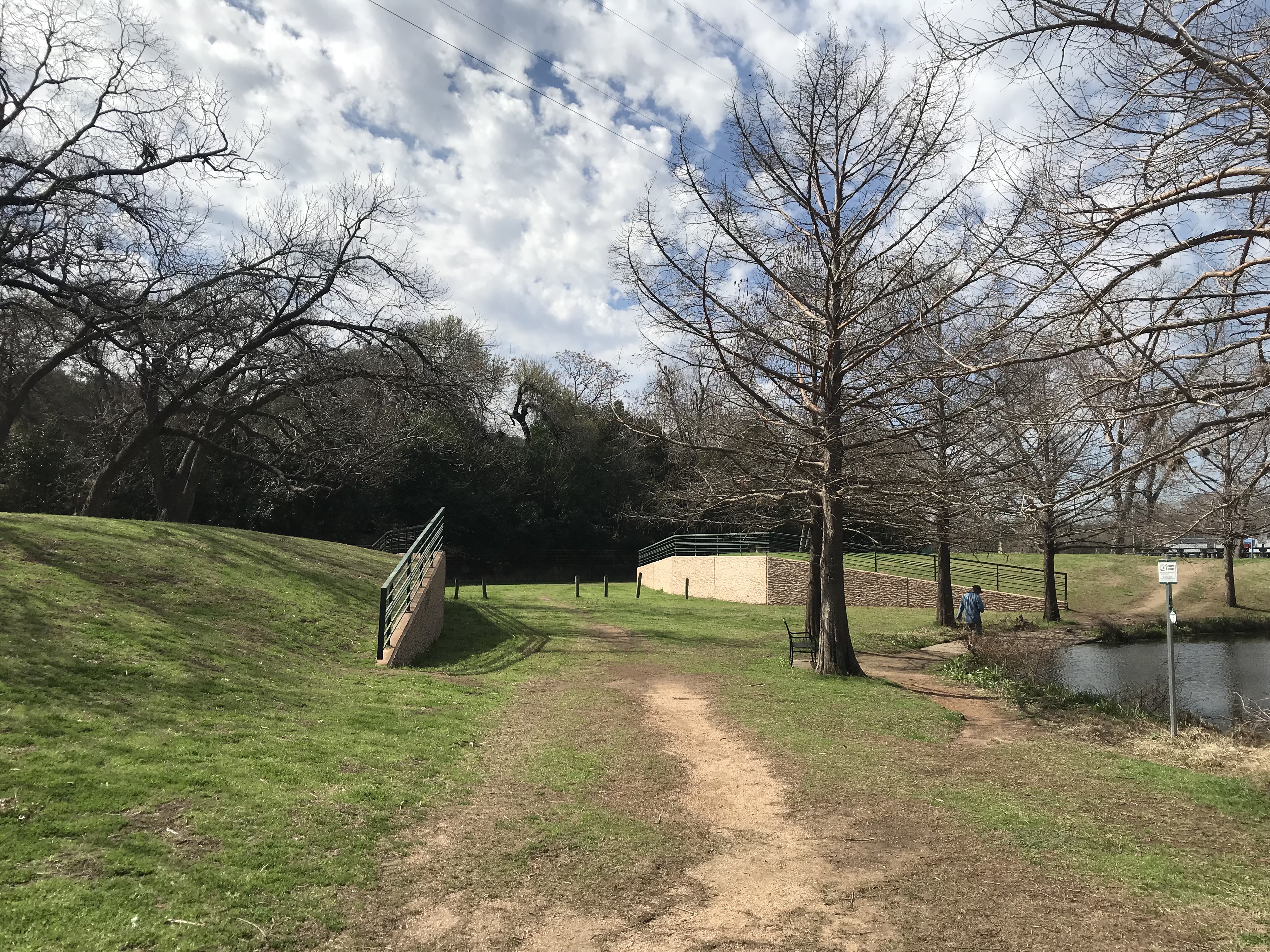 Northwest Park in Austin's Allandale neighborhood, known also as Beverly S. Sheffield Northwest District Park, is intimately tied to some of my fondest memories. I have set out from my home and taken countless strolls that cut through the park; have tossed sticks to dogs on the green expanse; enjoyed solo time on the swings when no one else was around; watched my son and his buddies splash in the the pool; thrown annual birthday parties by the playscape; caught a little league baseball game on the fly;  played tennis with a friend and hit against the background; and watched a pick-up basketball game as I headed toward the pedestrian bridge. But my favorite past time is simply lying in the grass by the pond, gazing up at the blue sky, feeling happy and at peace.
An Oasis
Northwest Park offers a break from the busy-ness of life and an opportunity to connect with nature. It's tucked in between rows of mostly one-story ranch-style homes along the perimeter, and Shoal Creek to the west. And if you didn't know it was there, you might miss it altogether, which would be a shame! While not as large as some of our other city parks, it's a welcome oasis nonetheless and a sweet reprieve from the stress of your day-to-day. No matter the season, the park has something to contribute. In the spring time you'll enjoy thick fields of wildflowers near the east entrance. The bluebonnets are not to be missed and beckon family photo shoots. The swimming pools offer an escape from the summer heat, whether you're in the lap lane or splashing in the shallow wading pool. Tranquil cypress trees along the pond's edge are a particular delight—their thin leaves changing dramatically as autumn settles in. And while winter temperatures may plummet and the trees turn stark and bare, the park offers a unique stillness that you'll enjoy just the same.
I love living in Allandale, and Northwest Park is an important part of what makes it feel like home. To quote namesake Beverly Sheffield himself, a much-respected employee and 30-year Director of the Parks Foundation, "I don't believe we can get too much open space."
Please reach out if I can be of help with your real estate needs!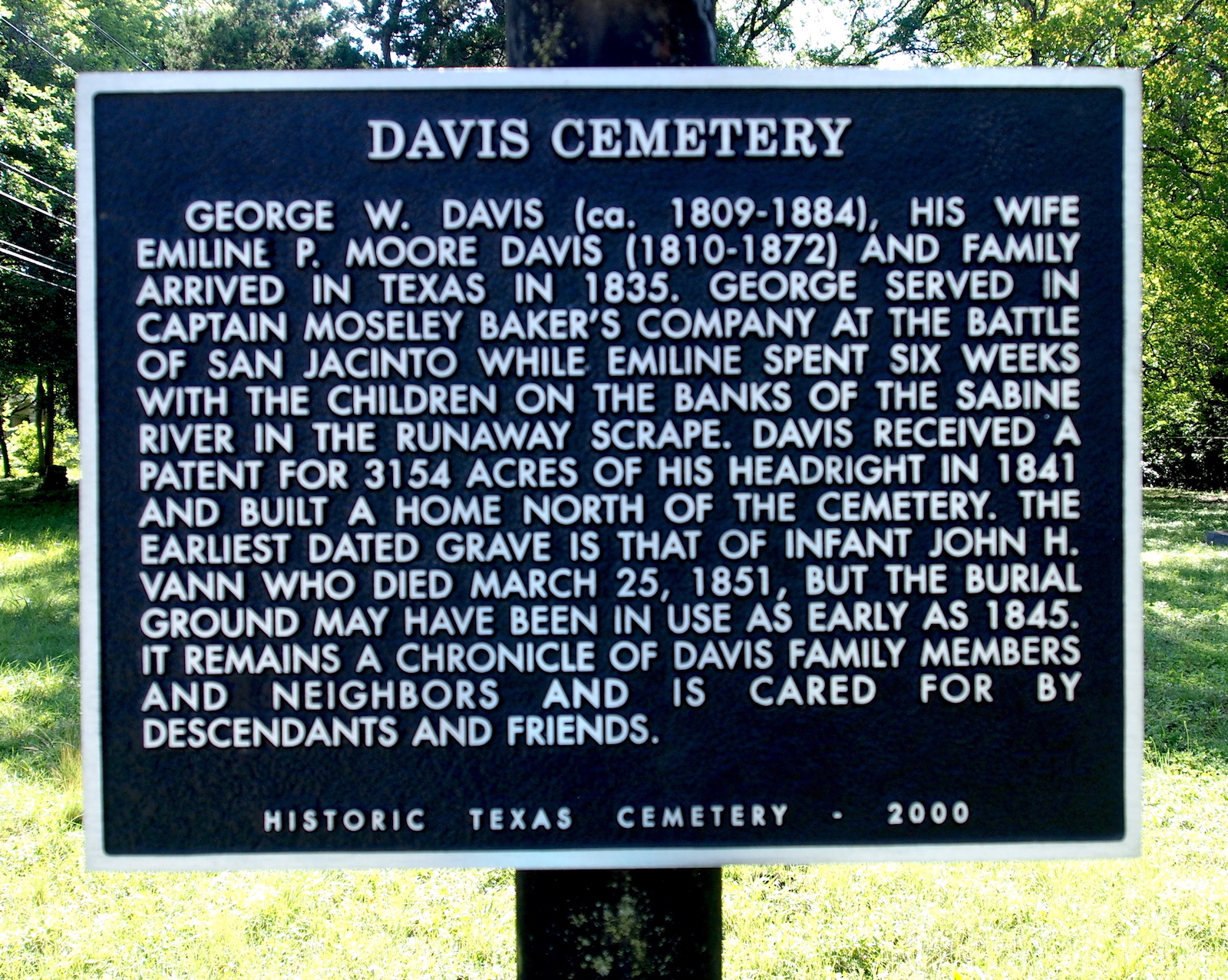 One of my favorite pastimes is walking around my Allandale neighborhood. The trees are well established, yards are clearly cared for, folks are friendly, and houses are interesting to look at. Funny enough, I don't know how long I lived in the neighborhood before I realized that we have our own little family graveyard there—Davis Cemetery—tucked into a parcel of land between two homes on Vine, off Twin Oaks and Cavileer.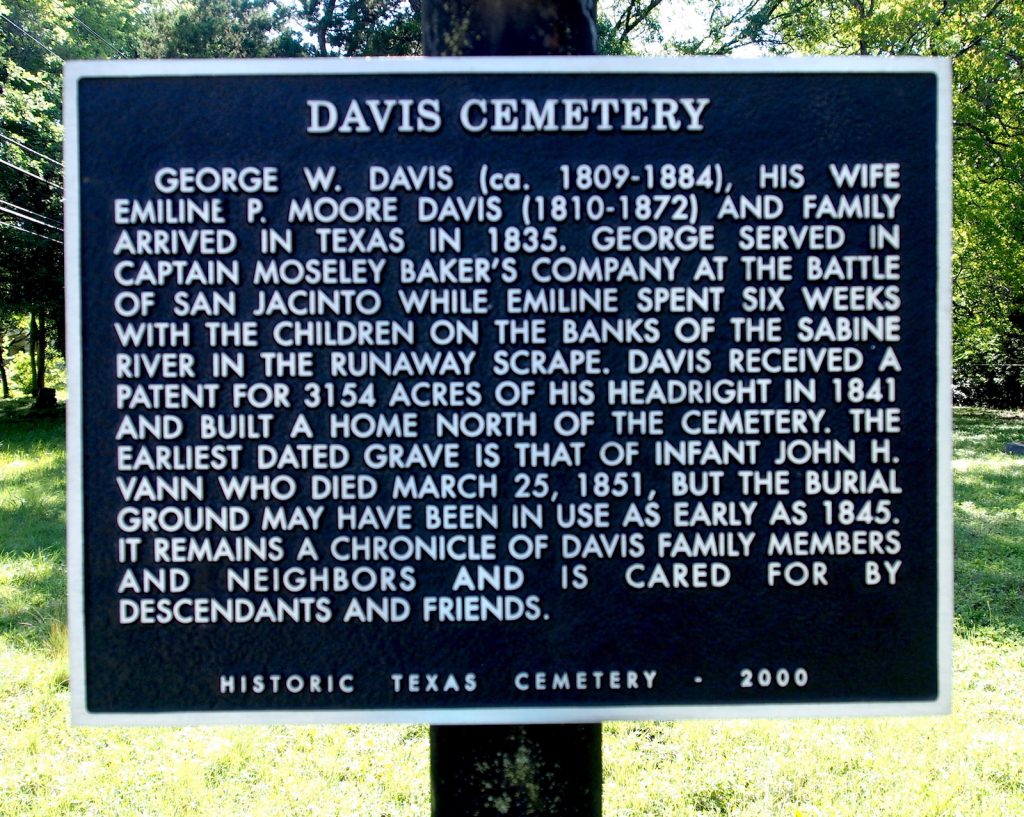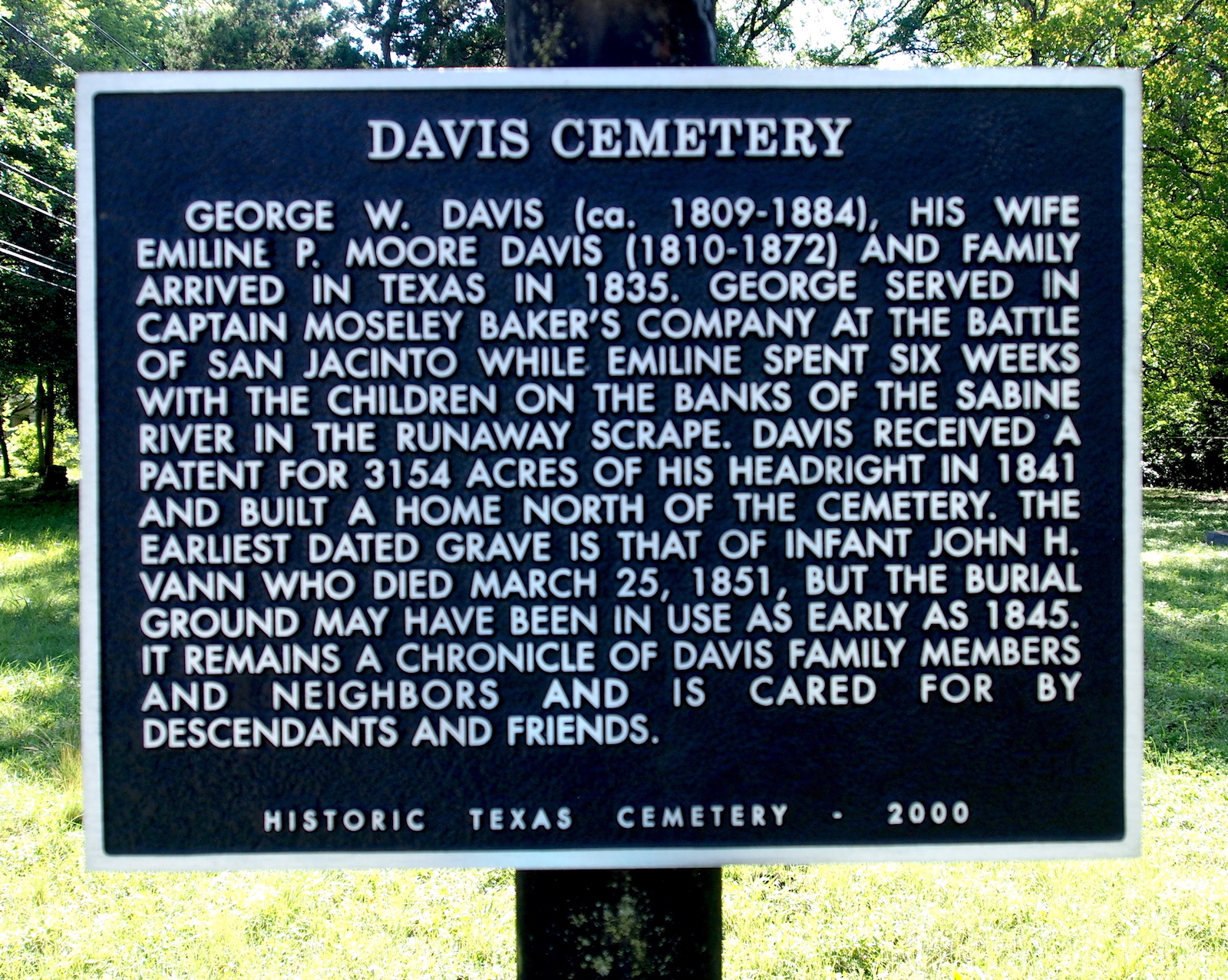 Research shows that George Davis and his wife Emiline Moore Davis settled in Austin in 1835. George served in the Battle of San Jacinto while his wife and kids hid out on the banks of the Sabine River in what's known as the "Runaway Scrape". That's when Texans were forced by war to flee their homes beginning in 1836.
A few years later in 1841, George received a patent for 3,154 acres of his "headright" (a legal grant of land given to settlers). He soon built his home in what is currently the Allandale neighborhood. It's believed that the cemetery was put into use a little later, with the first grave dating to 1851 for the burial of an infant son.
Davis family members and neighbors used this quiet sanctuary as their final resting place. There are about a hundred graves on this plot of land, which was closed in 1918. You can simply walk through the unlocked gate and spend a few minutes in silent contemplation as you read the headstones. Though the grave sites are still being taken care of, many of the markers are difficult to read. Some have been broken and perhaps vandalized, and some are just leaning against the trees. Nevertheless, it's a neighborhood curiosity that you might enjoy walking through. Nothing scary about it…just peace and quiet.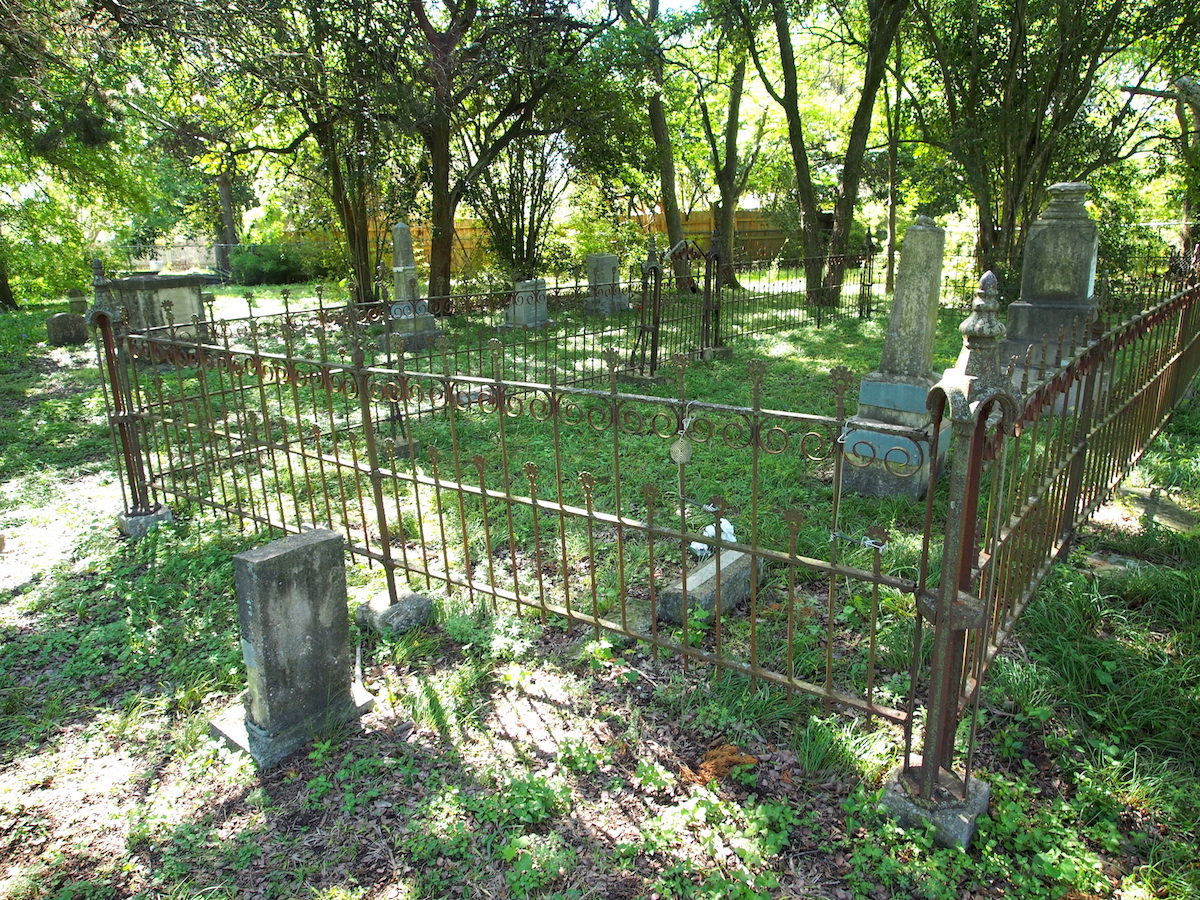 Additional Information
Sign up for Neighborhood News and learn even more about your local real estate market. Target this helpful monthly update toward any zip code area you're most interested in.
Maria K. Benning, REALTOR
---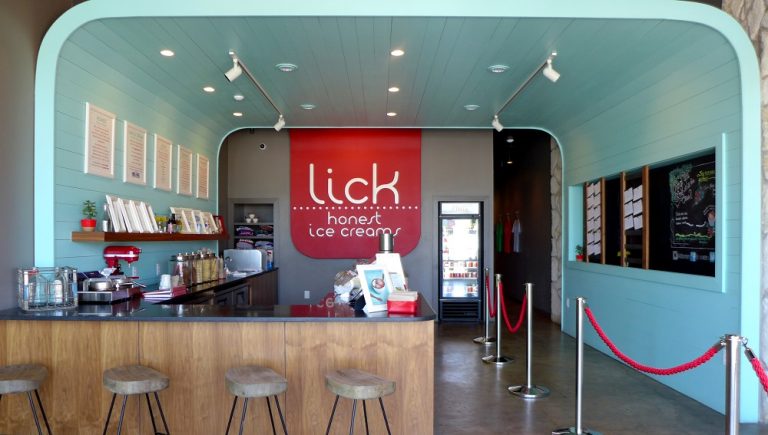 Allandale is a great neighborhood to live in, as you may already know. One of the reasons why is because of the many great eateries in the area. A personal favorite is Lick Honest Ice Creams. The store I visit is at 6555 Burnet Road, #200, sandwiched in between other great shops.
I started wondering who the owners were and what brought them here originally. Anthony Sobotik from Hallettsville, Texas and Chad Palmatier from Lancaster, Pennsylvania met in New York in 2005. They connected on several levels including a love of delicious, freshly made ice cream using local ingredients. Since opening in the fall of 2011, Lick has become such an Allandale fixture that its parking lot is often full (which bodes well!). Thank goodness they had the smarts to secure additional parking along Burnet Road and behind the building. Plus you can always walk.
But why establish a presence in our  neighborhood? Anthony and Chad were drawn to Allandale area for several reasons. To start with, ours is a family-focused hood with a strong sense of community (pride of ownership!). We can walk or cycle the neighborhood pretty readily, and we do. When Anthony was in college, he spent a good bit of time as an after-school advisor at a business off Burnet Road. That was when he became very familiar with the area and discovered how family-oriented it is. He sure got that right!
Back to the Food in Allandale!
I have no idea how much ice cream I've eaten over the years but it's probably my #1 treat. That's even more true because of the care Lick puts into their product. While not all ingredients are certified organic and non-GMO, many are. These days, customers often make special requests when it comes to what's on a menu. Lick does its best to accommodate even the most discerning palate. These ice cream makers extraordinaire never use artificial flavor or colors, high fructose corn syrup or preservatives. If they can't find ingredients that are locally grown, they do their best to acquire them from a small, local business, supporting sustainable farmers and responsible artisans. Their dairy source is Mill-King Market & Creamery in Waco. OMG, I'm salivating!
If you avoid the moo, Lick offers choices that are gluten free, non-dairy, vegetarian and vegan. No matter what you opt for, they're all darn tasty, served up by the friendliest crew regardless of who's working the shift! Yes, you can find vanilla, strawberry and chocolate flavors. I encourage you to branch out though because some of the combinations will surprise and delight you. Fear not, ice cream adventurer, you can always ask for a tiny spoon sample! Don't forget about the sandwiches either. Orange Chocolate, Peanut Butter, Caramel Salt Lick, and more.
Come one, come all. Support your local business owner and bring your family and friends to Lick Honest Ice Cream. You'll be glad you did!
Additional Information
Sign up for Neighborhood News and learn even more about your local real estate market. Target this helpful monthly update toward any zip code area you're most interested in.
Maria K. Benning, REALTOR
---